Books - Edinburgh Book Festival 2021

Organisers of the Edinburgh International Book Festival have announced a stellar line-up of writers and thinkers from around the globe for this year's packed programme of online and in-person events next month...
Press Release
The Book Festival runs from Saturday 14th to Monday 30th August from the Festival's new home in the University of Edinburgh's Edinburgh College of Art on Lauriston Place with almost half of the speakers planning to appear in person in Edinburgh, while others are joining digitally from their homes around the world.

Nick Barley, Director of the Edinburgh International Book Festival, said: "We are incredibly excited to produce our first 'hybrid' festival with authors and audiences joining us both in person and online. We welcome a mix of Scottish and international voices to discuss their ideas, hopes and dreams and we aim to explore together how to move 'Onwards and Upwards' from this devastating pandemic. In our new home at Edinburgh College of Art we have created three broadcast studios, two of which can accommodate limited audiences. These new facilities enable us to offer author conversations to worldwide audiences and to those closer to home who are unable to join us in person, as well as welcoming a limited In-Real-Life audience.

"The Book Festival is at the forefront of the re-emergence of public events, and we have a duty of care to our authors, audiences and staff. It is important that we help rebuild confidence and we have therefore chosen to retain 1metre social distancing for audiences in the studios. This gives us a reduced capacity of 100 in the New York Times Theatre (in Sculpture Court) and 60 in the Baillie Gifford Theatre (in West Court). Outside in the courtyard we are recreating the 'village green' element of the Book Festival that our audiences enjoy with a bookshop, café, family play area, seating spaces and a big screen upon which a number of the live events will be shown. The Book Festival has always aimed to be an oasis of calm and, as ever, this will be a space for audiences to chat, relax, read a book and while away the hours in the summer sunshine."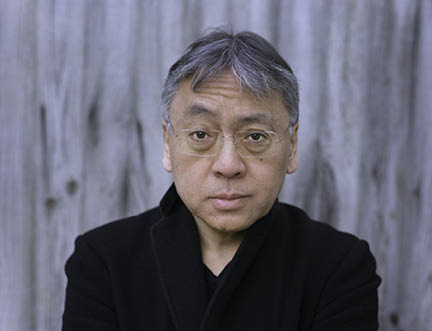 The Book Festival welcomes Nobel Prize winners Amartya Sen and Kazuo Ishiguro as well as Ngũgĩ wa Thiong'o, a writer hotly tipped for Nobel recognition. Booker Prize winners include Salman Rushdie who investigates Truth with BBC Journalist Allan Little, Douglas Stuart talking about Shuggie Bain with First Minister Nicola Sturgeon, Bernardine Evaristo who introduces her exciting selection of new Black British writing and Richard Flanagan speaking live from Australia. The 2021 International Booker Prize-winning author David Diop and translator Anna Moschovakis also discuss their winning novel and the winners of the University of Edinburgh's James Tait Black Prizes are announced in an event celebrating all the shortlisted authors.

Former Prime Minister Gordon Brown examines global solutions for global problems, Ed Miliband is joined by Ece Temelkuran to explore the need for major change and Gavin Esler discusses the future of the United Kingdom with Samir Puri. Alex Renton and Lisa Williams, founder of the Edinburgh Caribbean Association, reflect on the legacy of colonialism and Empire and Sathnam Sanghera shares his views on how Britain could better reflect the realities of its imperial past. Dan Hicks, professor of archaeology at the Pitt Rivers Museum, explores the case for repatriation of colonial museum collections and Hans Ulrich Obrist, Artistic Director of the Serpentine Galleries, discusses the role of art as a catalyst for change.
The New York Times Series includes panel discussions examining the latest advances in journalism with Eliot Higgins, founder of Bellingcat, in conversation with Matt Thompson, editor of The New York Times's innovative investigations unit Headway. After 20 years of the War on Terror Nick Bryant, the BBC's New York correspondent, joins Helene Cooper, The New York Times's Pentagon correspondent, to discuss whether intervention can ever be humanitarian and 24-year-old Ugandan activist Vanessa Nakate joins founder of Intersectional Environmentalist Leah Thomas, UK ornithologist and author Mya-Rose Craig and The New York Times's Elizabeth Paton for a discussion on climate change.

Kate Aronoff and Pulitzer Prize-winner Elizabeth Kolbert offer new perspectives on how we can face the challenges engulfing our planet. Devi Sridhar, a key member of the Scottish Government's Covid-19 Advisory Group, discusses how political decisions led to differing government responses to the pandemic with Sally Magnusson. GP Gavin Francis and palliative care doctor Rachel Clarke, both with frontline experience of the NHS response to Covid-19, are joined by novelist Kate Mosse who has been caring for elderly family members throughout lockdown, to share their personal experiences of the pandemic.

Authors bringing brand new releases to Edinburgh this summer include Joan Bakewell who explores the implications of downsizing, Eimear McBride with her first non-fiction release, Matt Haig with The Comfort Book and new novels from Pat Barker and Elif Shafak. Poet Kathleen Jamie is joined by Don Paterson and Peter Mackay to launch The Golden Treasury of Scottish Verse and Lavinia Greenlaw introduces her memoir. Better known for his gripping TV productions, Jed Mercurio has collaborated with Prasanna Puwanarajah to create Sleeper, the first in a hotly anticipated new graphic novel series.

International voices join conversations in Edinburgh live from their homes across over 30 countries including from America Pulitzer prize-winning authors Viet Than Nguyen and Marilynne Robinson, novelists Torrey Peters, Jeff VanderMeer, Willy Vlautin and Rachel Kushner, and Alicia Garza co-founder of the Black Lives Matter movement. The Festival celebrates stories from the Caribbean with Monique Roffey and Cherie Jones and from across Africa with Rwandan Scholastique Mukasonga, South Africa's Damon Galgut and Pumla Dineo Gqola, Liberia's Wayétu Moore and Kenya's Yvonne Adhiambo Owuor.


Home-grown talent includes Ian Rankin who launches The Dark Remains, his completion of William McIlvanney's final manuscript, Ali Smith who introduces Art in a Time of Lies, a new film made with Sarah Wood, footballer Pat Nevin in conversation with Val McDermid who also launches 1979, the first book in a brand-new series and Alan Warner whose Kitchenly 434 is also set in the 1970s. Maggie O'Farrell explores the influence of her mild neurological condition on her writing and her ideas, Alexander McCall Smith presents several books written during the pandemic, Denise Mina previews Rizzio and Sara Sheridan launches her novel set in Edinburgh's Botanic Gardens. To coincide with her exhibition at the Scottish National Portrait Gallery artist Alison Watt is joined by Andrew O'Hagan to discuss the importance of influence. Scottish crime writers Doug Johnstone, Ambrose Parry and Mary Paulson-Ellis all introduce their new books and Abir Mukherjee discusses the latest in his series set in Calcutta.

In the Reading Scotland series, supported by the Scottish Government's Edinburgh Festival's Expo Fund, the Book Festival has teamed six Scottish writers with new books set in Scotland, some written in Scots, with six young Scottish filmmakers and commissioned short films evoking the spirit of the setting and mood of each novel. The authors include James Robertson who launches News of the Dead with a film by Anthony Baxter, Graeme Armstrong whose debut novel The Young Team has been interpreted by James Price, as well as Shola von Reinhold, Helen McClory, Jen Hadfield and Ross Sayers. The films premiere at the start of each partner author's event.

Culture Minister Jenny Gilruth said, "This year's Book Festival offers excellent online and in-person experiences that will connect audiences all over the world to an impressive line-up of writers and events. This year we are supporting our talented writers in the Reading Scotland series by providing £120,000 from Scottish Government's Festival's Expo Fund, a great initiative that will see Scottish writers team up with young Scottish filmmakers to create short films based on their novels. I want to congratulate everyone involved for responding to the many challenges presented by the pandemic and thank you all for the massive amount of work that has gone into arranging the festival again this year."


Bringing books to life through performance is a key element of the Book Festival and this year the Festival's Playing with Books partnership with the Royal Lyceum Theatre Edinburgh returns with special one-off interpretations of Sea State by Tabitha Lasley, The Long Drop by Denise Mina and a new writing commission, The Yellow Door by Kathleen Jamie. Former Scots Makar Jackie Kay brings blues singer Bessie Smith to life with her new biography and is joined by acclaimed jazz and blues vocalist Suzanne Bonnar to sing some of Bessie's best loved songs. Author Jenni Fagan has worked with the Stellar Quines Theatre Company and actors from the Citizens Theatre WAC Ensemble to create a new adaptation of You've Never Slept in Mine by Scottish author Jessie Kesson, which will be performed as a rehearsed reading. Songs from Scotland celebrates the poetry of Edwin Morgan in a stunning choral arrangement composed by Gavin Bryars, co-commissioned by the Book Festival and Celtic Connections, and premiered by Glasgow ensemble Capella Nova.

Jenni Fagan also undertakes a series of walking tours through Edinburgh's Old Town and shares the secrets and places that inspired her latest novel Luckenbooth. Other walking tours around the city, a new venture for the Book Festival this year, include a fun family trail around the Meadows in the company of Macastory, a Black History Walking Tour led by Lisa Williams and a self-guided city centre tour which has been developed alongside Tollcross Community Action Network together with photographer Alicia Bruce and Writer in Residence Eleanor Thom as part of the Book Festival's Citizen project.

The Citizen project, supported by players of People's Postcode Lottery through the Postcode Culture Trust and through the PLACE Programme, is committed to diversifying audiences and expanding engagement across Edinburgh. Events in the 2021 programme include Stories & Scran which returns with a community meal for Citizen participants, followed by a showcase of readings, stories and short films, and a celebration of the new edition of One City, scheduled for publication in early 2022, with contributors Irvine Welsh, Anne Hamilton and Ian Rankin. Award-winning theatre director, Ross MacKay heads up R-Words: Infectious Poetry for Everyone tracing the spread of his idea to infect people with poetry from conception to completion in a nationwide game of poetry consequences.

Laura Chow, Head of Charities at People's Postcode Lottery said: "It's exciting to hear that the Book Festival will be back in a new location, with players of People's Postcode Lottery supporting its Citizen programme and activities. The Postcode Culture Trust's mission is to inspire learning, understanding and appreciation of arts and culture, which is exactly what the Citizen project will be doing for the local community in Edinburgh."


Families can enjoy a visit to the Book Festival at its new home at Edinburgh College of Art where there is a children's play area, a selection of children's books in the Festival Bookshop and a big screen in the open courtyard showing events from across the Baillie Gifford Children's Programme, including superstar dancer Oti Mabuse who makes her debut in Edinburgh with a virtual interactive dance-along. Authors, illustrators, poets and performers join the 2021 line-up including Festival-favourites Michael Morpurgo, Cressida Cowell, Julia Donaldson, Malorie Blackman, Philip Ardagh, Debi Gliori and Neil Gaiman with Chris Riddell.

As well as established names, the Baillie Gifford Children's programme welcomes exciting up and coming voices including author illustrators Jodie Lancet-Grant and Dapo Adeola. A discussion with 19-year-old climate activist Mya-Rose Craig, Faridah Àbíké-Íyímídé with her debut novel Ace of Spades and Juno Dawson, who tackles the complex realities of growing up trans and/or non-binary with honesty and humour, are amongst the events for Young Adults. You Can! the wonderful new picture book from author Alexandra Strick and illustrator Steve Antony is at the heart of an interactive event suitable for everyone including those with learning difficulties, created with the support of PAMIS. New for 2021 are a series of pre-recorded audio-only events, available from the very start of the Festival, which include Jeffrey Boakye whose event around Musical Truth has an accompanying playlist, M G Leonard with a new book about a birdspotting detective, and Nicola Morgan who shares her thoughts on how teenagers can look after their mental health.

In a series of special events for industry professionals, the Book Festival presents The Business of Books. Bringing together publishers, booksellers, editors, agents, writers and arts professionals, these free events explore the future of the publishing industry from Rethinking Diversity to Creating Book Events for People with Learning Disabilities. In addition, there is a masterclass on Book Cover Design and a Scottish Publisher Showcase, also in the public programme, giving audiences a taste of the breadth of Scotland's vibrant publishing landscape from the shores of Leith to the Isle of Lewis.

Alan Bett, Head of Literature and Publishing at Creative Scotland, said: "The 2021 offering is an exciting and radical reimagining of the Edinburgh International Book Festival, based and broadcast from their new home at the Edinburgh College of Art. Featuring an inspiring and diverse programme of writers and thinkers, from international voices to home grown talent, the programme will spark debate and bring the joy of reading to audiences across Scotland and beyond. The Book Festival team deserve a huge amount of credit for their hard work, ensuring authors and their readerships meet, either in person or in the digital sphere, to enjoy some of the most vital and valuable literary work the world has to offer."


A new Bookshop on site at Edinburgh College of Art will be complemented by the Festival's online bookshop which features titles from all authors in the 2021 programme in addition to showcasing a range of books from Scottish publishers. As well as book signings with authors who are appearing in person in Edinburgh, there are a selection of live online book signings for authors who are joining digitally where audience members are able to chat face-to-face and get their book signed after the event.

The Edinburgh International Book Festival receives funding from The Scottish Government, UK Gov Scotland, Creative Scotland, City of Edinburgh Council, EventScotland and the Culture & Business Fund Scotland. The Edinburgh International Book Festival is hosted at the Edinburgh College of Art as part of a long-term partnership between the Festival and the University of Edinburgh. The Book Festival would like to thank the University of Edinburgh for their support in making this year's Festival possible.

Councillor Donald Wilson, Culture and Communities Convener for the City of Edinburgh Council, said: "We are proud to support the Edinburgh International Book Festival as we look Onwards and Upwards. As the world's first City of Literature, we know how much Edinburgh's book lovers welcome the Festival each year and its new home at Edinburgh College of Art provides excellent studio and theatre facilities for both online events and activities as well as the planned live programme. Public health and safety will of course remain a priority, and we continue to be impressed by the resourcefulness and resilience displayed by the Festival throughout the last year and in the planning for such an exciting programme for 2021."

Edinburgh International Book Festival takes place at Edinburgh College of Art from Saturday 14th to Monday 30th August 2021. All events are streamed live online and can also be watched on demand through the Book Festival's website. The Book Festival is operating a Pay What You Can scheme for all online events and limited numbers of in-person tickets for selected events will go on sale at midday on Thursday 22nd July.
Full details of all events, and how to book tickets for both watching online and in-person can be found at
www.edbookfest.co.uk
. All tickets must be booked online through the Book Festival's website. Events across the programme will be BSL interpreted, and further events will be live captioned. Online audiences can mingle with each other before and during events by entering a live chatroom, and most events offer a Q&A session with the authors. Anyone watching online can post questions to authors and vote for their favourites from other audience members.
Images & info - Edinburgh International Book Festival